Invitation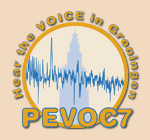 On behalf of the Organizing Committee, it is my honour and pleasure to cordially invite you to attend the 7th Pan European Voice Conference, to be held at the University of Groningen, between August 29th, and Sept 1st, 2007. The Groningen Voice Research Lab, part of the Department of BioMedical Engineering, invites you with great enthusiasm to support this major scientific event on Voice and Breathing.
The topics chosen, as will be discussed under Main Themes, reflect the current interest of all people who are interested in Voice. Although we do not always seem to realize how important the voice is for communication, for transferring emotions, etc., the Voice is a main tool for many professional activities. Teachers, salesmen, managers, lawyers, singers, actors, etc., continuously need to teach, explain, convince, persuade, decide, move, touch, and charm with their voices.
Attention will be paid to specific goals in educating the voices of children, the voice of speakers and actors in theatres. The close relationship will be discussed between Stress, Voice and Emotion and how to cope when problems occur. How to train the voice for specific goals, for teaching, for the theatre, for singing in classical and modern music? How to choose between the large varieties of voice therapy approaches, or State-of-the-Art surgical procedures? And last but not least, how to monitor the progress in professional singing voice training and monitor the development of artistic aspects of singing, and following the progress in getting the desired features.
During PEVOC7 also many other aspects of voice will be discussed in free paper sessions and workshops: prevention, hygiene, basic sciences, biomechanics, pathophysiology, epidemiology, measurement of voice loading, testing and diagnosing, functional, medical and phonosurgical treatment, voice coaching, medico-legal and insurance aspects, room and theatre acoustics, technical aids and voice amplifiers, etc.
Come to Groningen, where the tradition of 60 years of Voice Science started with the work of Janwillem van den Berg, also to enjoy the historical city centre, the social programme, and a concert on one of the beautiful Church Organs from the 17th century, an Arp Schnitger Organ in the Martini Church. I invite you, also on behalf of my
Co-Chairman Jopie Kuiper , to contribute to this unique occasion by presenting a lecture or workshop and participating in the discussions.
We look forward to welcoming you to the Netherlands in summertime. Come and experience our hospitality!

With warm greetings,
Harm K. Schutte,
Co-chairman PEVOC7